The Finest in Artistic Eye Treatments…. Totally Realistic!

Our Beverly Hills practice caters to the most discerning clientele who appreciate our legacy of excellence, discretion, and service.

---
---

For over a half-century in Southern California, we have made the finest artificial eyes, custom prosthetic eyes, scleral shell prosthesis, and appearance – enhancing cosmetic contact lenses for adults and children. Whether to restore a person's self-esteem following severe trauma, disease, or tumor, or to cosmetically enhance natural eye color, our level of success continues to inspire.

A World of Difference
With a 50-year, two-generation history of developing and refining the modern artificial eye, we deliver the most natural results available. We are proud to announce our newly patented digital iris enhancement technology.
Our advanced computer-graphic process enables us to duplicate the most natural iris structure and color in prosthetic eyes, because each and every human iris is as unique as a fingerprint or a snowflake. Working with your surgeon, we custom fit, fabricate, and insert each realistic looking acrylic eye as soon as possible following surgery. This facilitates necessary reshaping of the underlying tissue and captures motion during the healing process. Our proprietary fitting techniques give superior results in regard to comfort, motion, and appearance. Our Ultra Natural Restoration Services personalizes your visit with a result that ultimately gives you the confidence to "face the world."

---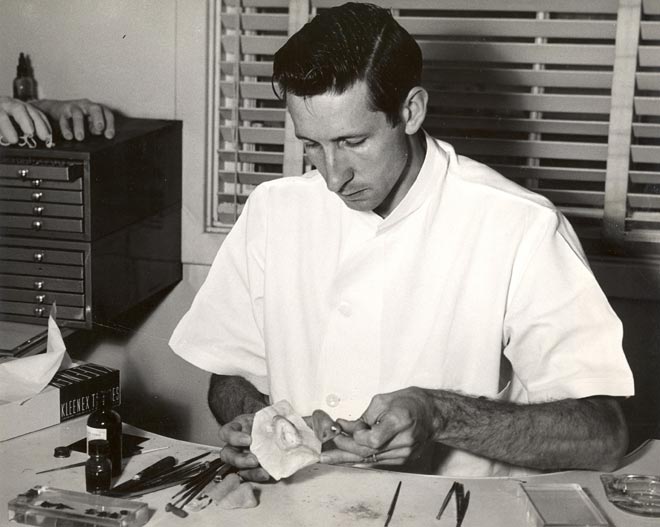 Our History
Our history of innovation in creating artificial prosthetic eyes dates back over a half-century. During World War II Germany cut off the supply of glass artificial eyes. The United States Army Medical Corps responded by instituting a program to develop and deliver plastic prosthetic eyes to servicemen.
Frederick Lewis was chosen to be part of that program. He has authored numerous papers on the subject of prosthetics for complex eye sockets and facial disfigurements. His pioneering work is recognized worldwide. He was a Charter Member and President of the American Society of Ocularists, and was a member of the Board of Directors for the National Examining Board of Ocularists.

---
Carole Lewis, B.C.O.
Board Certified Ocularist, Clinical Anaplastologist — has over 25 years of clinical experience in Southern California. She is a nationally certified Physician Assistant, achieving this registration in the first examination administered by Yale University. Since 1984, she has been successfully fitting and fabricating complex prosthetic eyes to bring forth the best possible solution for each unique eye socket. She is recognized internationally for her successes with artificial eyes for highly complex, congenitally undeveloped eye sockets in infants.
Her ongoing affiliation with both the UCLA Jules Stein Eye Institute and USC Doheny Eye Institute is helping to expand techniques that capture the most natural artificial eye and socket motion. Carole Lewis' proven lid and socket therapy is a non-surgical approach to capture and augment motion. Surgically, we are helping expand techniques that utilize state-of-the-art hydroxyapatite and other high motility implants to enhance motion of artificial eyes in severely damaged eye sockets. In addition, she is a member of the Cedars- Sinai Craniofacial Team for infants born with undeveloped eyes, and participates on the National Collaborative Ocular Melanoma Study with the Jules Stein Eye Institute, Doheny Eye Institute, and Kaiser Permanente. She is a member of the American Society of Ocularists, and received the Legrand Lecture Honorarium, bestowed annually, during the joint Oculoplastic-Ocularist Medical Conference.
Affiliations:
American Academy of Ophthalmology
National Examining Board of Ocularists
Jules Stein Eye Institute/ UCLA School of Medicine
Cedars- Sinai Craniofacial Team
Ocularist Association of California
Integrated Orbital Implants (Hydroxyapatite)/ Bio Eye
The American Society of Ocularists
The Wright Foundation
---
Rick Angeles, B.C.O.
Rick Angeles, Board Certified Ocularist, studied graphic design and computer animation at the Art Institute of Los Angeles. He joined the Esthetic Eyes team in 2003 to advance the digital iris technology with both his computer and artistic skills. He ensures that each eye he produces is of the highest quality and gives his patients new confidence.
He has worked with Esthetic Eyes since 2003, initially under Frederick Lewis, former co-founder and former president of the American Society of Ocularists, and is currently working with Frederick Lewis' daughter Carole Lewis in her Beverly Hills, California office.
Rick is highly skilled and completely running our custom made, patented 3D digital iris studio, which is unparalleled and attracts patients worldwide. He runs our Beverly Hills studio location as well as our Orange County and other remote office locations.
As a new father himself, Rick is also sought after by our young patients and specializes in both ocular birth defects and retinoblastoma. He is very appreciated by all our patients locally and from around the globe.
Rick brings integrity, advanced digital technology, custom fitting, and a high-level of expertise in fabrication of each individual and unique prosthetic eye and we are grateful he is part of our Esthetic Eyes team.
About Us | Esthetic Eyes