View the Extreme Dr. 90210 premiere episode of the season recently filmed in our office.
Deborah Falconer

Writer/Songwriter

American actor Robert Downey Jr.'s former wife is proud to showcase our work.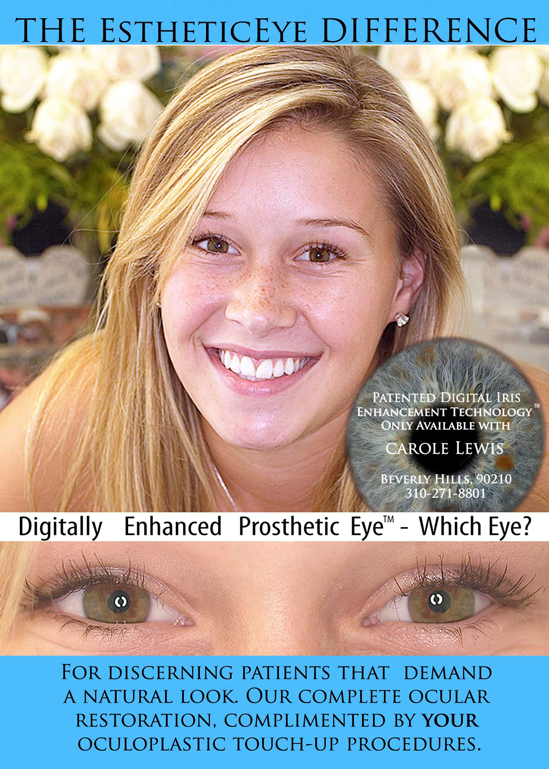 Ocularist • Artificial Eye • Prosthetic Eyes • Scleral Shell
The Finest in Artistic Eye Treatments…. Totally Realistic! Our Beverly Hills practice caters to the most discerning clientele who appreciate our legacy of excellence, discretion, and service. For over a half-century in Southern California, we have made the finest artificial eyes, custom prosthetic eyes, scleral shell prosthesis, and appearance – enhancing cosmetic contact lenses for adults and children. Whether to restore a person's self-esteem following severe trauma, disease, or tumor, or to cosmetically enhance natural eye color, our level of success continues to inspire.
A World of Difference
With a 50-year, two-generation history of developing and refining the modern artificial eye, we deliver the most natural results available. We are proud to announce our newly patented digital iris enhancement technology. Our advanced computer-graphic process enables us to duplicate the most natural iris structure and color in prosthetic eyes, because each and every human iris is as unique as a fingerprint or a snowflake. Working with your surgeon, we custom fit, fabricate, and insert each realistic looking acrylic eye as soon as possible following surgery. This facilitates necessary reshaping of the underlying tissue and captures motion during the healing process. Our proprietary fitting techniques give superior results in regard to comfort, motion, and appearance. Our Couture Services personalizes your visit with a result that ultimately gives you the confidence to "face the world."